The internet significantly evolved the gambling industry, but then came along cryptocurrencies and a whole new metamorphosis took place, shaping the gambling world into the powerhouse it is today.
As much as Bitcoin was the first, empowering the world as a whole, Ethereum came with far more utility and accessibility. Ethereum not only benefited those within the crypto community but has become a fan favorite among gamblers worldwide. With the use of smart contracts and its decentralized nature, Ethereum has been a catalyst for cryptocurrency adoption across multiple industries, especially gambling. Ethereum gambling is simple, effective, and secure. In this guide we will delve into the pros and cons of this type of crypto gambling, how it has impacted the industry, and so much more. Let's dive in. 
Understanding Ethereum
Ethereum was co-founded by Vitalik Buterin in 2014. But Ethereum is more than just your standard blockchain, with a rich history, this decentralized network rose to fame because of how effectively it verifies affiliation code and executes it, functioning as self-executing agreements. This code is usually in the form of smart contracts.
These smart contracts have empowered the creation of dApps and a flourishing ecosystem. In the context of Ethereum gambling, the smart contract capabilities of Ethereum have paved the way for betting devoid of the need for intermediaries, ensuring a state of trustlessness and transparent operations. Following the Ethereum merge, the cryptocurrency has proven to be ever-evolving, making it one of the most currently capable "original" blockchains.
Advantages of gambling with Ethereum
Accessibility: Ethereum gambling sites are not victim to geographical boundaries, extending their accessibility to users from across the globe. Ethereum gambling allows for effortless cross-border transactions, eliminating the complexities tied to currency conversions. And with the incredible amount of Ethereum wallets out there, users should have no trouble transacting.
Anonymity: While the transactions conducted over the Ethereum blockchain are permanently recorded, the identities of users remain pseudonymous.
Transparency: The blockchain of Ethereum ensures transparency by documenting all transactions within an openly accessible ledger. The integration of smart contracts eliminates the necessity of intermediaries, thus manipulation is less likely to occur or go unnoticed.
Fast Transactions: Ethereum gambling is made fast due to Ethereuem's ability to process 30 transactions per second, ensuring speedy deposits, withdrawals, and immersive betting experiences in real-time.
Disadvantages of gambling with Ethereum
Volatility: Ethereum price, like most assets, is subject to volatility. But the crypto markets are especially volatile, rendering your wins and balance susceptible to abrupt fluctuations.
Regulations: Gambling with any cryptocurrency, is surrounded by regulatory complexities that differ from jurisdiction to jurisdiction. Different countries have different rules, thus making it confusing and risky for certain players to partake.
Complexity: Ethereum gambling requires a certain degree of technical capabilities. Players will need to create a wallet, buy crypto, send crypto using wallet addresses, ensure they are using the right network, withdraw to the right wallet while using the right network, and so much more. It becomes easier but it is not always very beginner friendly.
The rise of dApps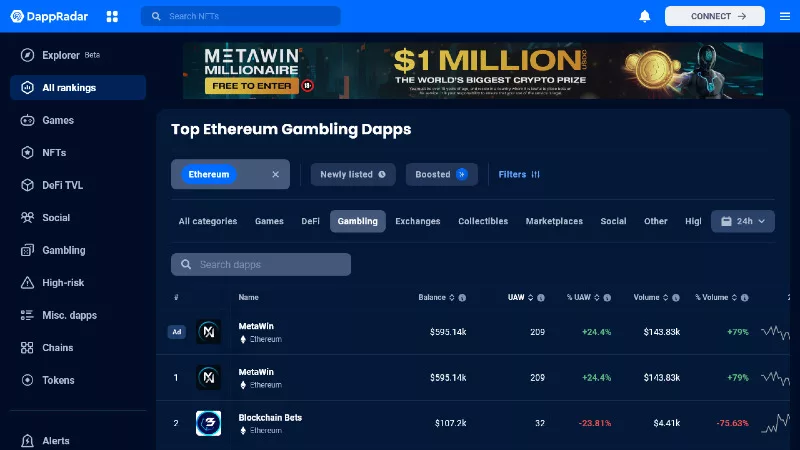 Ethereum and its smart contracts have given way to the rise of decentralized applications (dApps). And while these dApps have evolved across multiple different industries, especially gaming, we are finally seeing them take over the gambling space, at least according to dappradar.
Gambling dApps, harnessed by the infrastructure of the Ethereum blockchain, offer an extensive spectrum of games, spanning from dice games to poker, and even roulette. Notably, even casinos such as Edgeless are listed as Ethereum dApps. Other examples of platforms and dApps that have garnered substantial recognition include but are not limited to MetaWin, Blockchain Bets, OwlDAO, Decentral Games, HunnyPlay, and more. Ethereum is empowering the gambling industry with effortless accessibility and transparent trustworthiness through smart contracts and Ethereum gambling dApps.
Get Ethereum gambling
Ethereum gambling is still in its adolescence, there is still so much to be done and adoption to be made. dApps are on the rise and Ethereum is still continuing to make network improvements.
Gambling with Ethereum already offers a greater sense of transparency, security, and accessibility than traditional gambling. With us so early in our journey, we look forward to seeing what the future has in store for Ethereum gambling. How will Ethereum esports and sports betting be improved? Will Ethereum ever sort out its gas fees? And how many more Ethereum slots will there be? These are questions that can only be answered by the passing of time, but in the meantime, you can check out some of the best Ethereum casinos out there. 
FAQs
Can you gamble with Ethereum?
Yes, hence the reason we wrote a whole article about it. Ethereum gambling provides players with faster, more secure, and normally cheaper transactions in comparison to traditional currencies and gambling.
What are Ethereum casinos?
Ethereum casinos are simply casinos that accept Ethereum as a method of depositing and withdrawing. It is basically any casino where you can use the cryptocurrency Ethereum to wager, place bets, and gamble.
How do Ethereum casinos work?
Ethereum casinos work just as any other casino works, except they allow you to deposit and withdraw using Ethereum as a currency. Players will usually be given a dedicated casino wallet to which they must send Ethereum to.
Is ETH safe to bet?
Yes, ETH, or Ethereum is safe to bet with. The safety of gambling is more dependent on the casino you are choosing to play on. So ensure you choose reliable and well-established Ethereum casinos to gamble on.
How to get ETH for free?
There are tons of cryptocurrency faucets out there, we recommend you check out BC.Game and BetFury as they offer daily spin faucets where you could potentially win ETH every day.
Source https://bitcoinchaser.com/ethereum-gambling
Disclaimer
Although the material contained in this website was prepared based on information from public and private sources that AMPRaider.com believes to be reliable, no representation, warranty or undertaking, stated or implied, is given as to the accuracy of the information contained herein, and AMPRaider.com expressly disclaims any liability for the accuracy and completeness of the information contained in this website.