A leading crypto analytics firm claims that the blockchain oracle Chainlink (LINK) is the subject of massive interest from deep-pocketed owners of digital assets.
Santiment says that holders of between 10,000 to 1,000,000 of the Ethereum (ETH)-based altcoin have bought over 47 million more LINK throughout the 2022 bear market.
According to Santiment, the newly accumulated amount of the 24th-largest crypto asset by market cap is approximately 4.73% of Chainlink's existing supply.
"Chainlink's shark and whale addresses (holding 10,000 to one million LINK) have been accumulating during the 2022 bear market. Since March 3rd, these addresses have collectively added 47.31 million LINK to their wallets. This translates to $312.7 million more invested."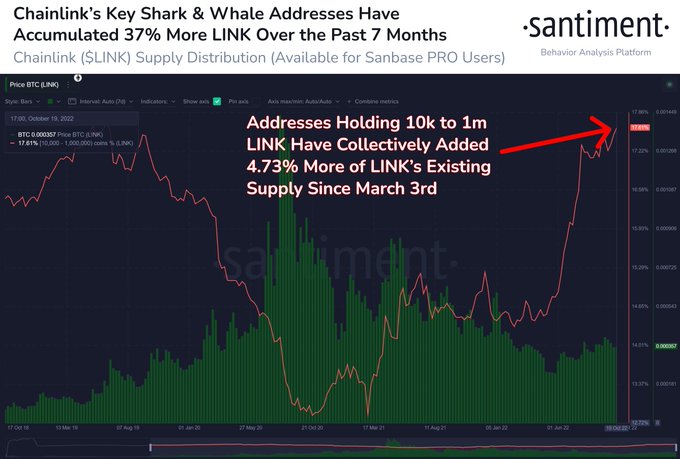 Chainlink is trading at $6.54 at the time of writing.
Turning to Litecoin (LTC), Santiment says that the whale transactions and address activity of the 22nd-largest crypto asset by market cap soared to an 11-month high this week.
According to Santiment, Litecoin may have bottomed out against the king crypto, Bitcoin (BTC).
"Litecoin has been quietly under the radar in 2022, but address activity and whale transactions have exploded this week. Particularly with $1 million+ valued transactions on the network, the timing of these spikes happened just as LTC began rising vs. Bitcoin."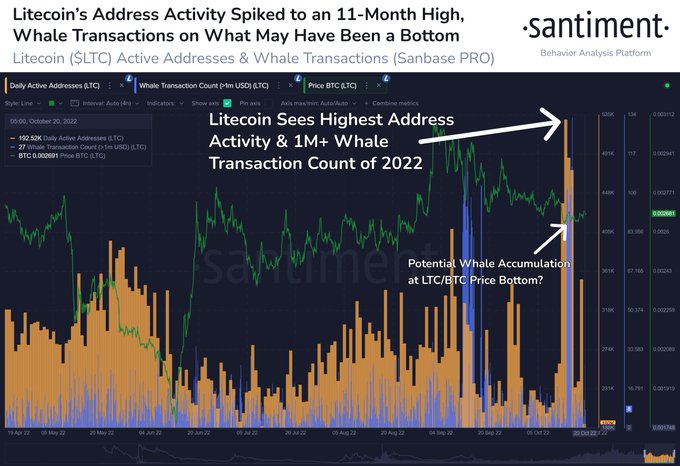 Litecoin is trading at $51.52 at the time of writing, up over 26% from its 2022 low of $40.30.
Disclaimer
Although the material contained in this website was prepared based on information from public and private sources that ampraider.com believes to be reliable, no representation, warranty, or undertaking, stated or implied, is given as to the accuracy of the information contained herein, and ampraider.com expressly disclaims any liability for the accuracy and completeness of the information contained in this website.